Biomass briquette plant briquette machine wood sawdust briquette plant for sale
Description:

Wood Briquette Machine is advanced biomass machinery which turns wood wastes materials into charcoal briquettes,which is one kind of green biomass fuel. It is good substitute of raw wood or excellent coal, the final briquettes is smokelessand longer burning time. It can be can be used for warming, heating, drying fuel, etc.



It is driven by electric motor, very easy op operate. The crushed raw materials are compressed under high tempreture andpressure by the screw extruding. With the intrinsic attributes of the wood materials, under high pressure, wood element in wood materials becomes plastic and makes the fine fiber combined, and then stick solid fuel is formed through the moulding tube. The matural lignin content in the biomass liberated under high tempreture serves as glue in briquetting process, binding wood materials together, so no need any adhensive.
Technical Parameter:
Model

Capacity




(kg/h)

Motor




(kw)

Diameter of




briquettes (mm)

Dimension




(m)

Weight




(kg)

ZBJ-50 (A)

250~300

15

Ø 30,40,50

1.6*0.65*1.4

800

ZBJ-50 (B)

300~320

18.5

Ø 30,40,50

1.7*0.65*1.4

900

ZBJ-50 (C)

320~350

22

Ø 30,40,50

1.9*0.7*1.45

950
Application: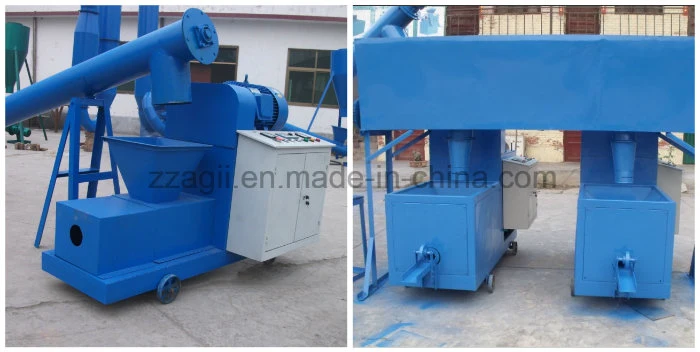 As the need of pollution free environment, the product has a large scope of marketing. The briquettes can be used as a substitute of any fuel in following fields:
1) Boilers: It can be used in the boilers of Paper Mills, Sugar Mills, Dyeing houses, leather, lamination industries, Vanaspati units,Food Processing Units, Oil Extraction Units, Solvent Extraction Plant and many other plants and industries..
2) Furnace & Foundries: It can be used for metal heating & melting (where melting point is less than1000d/cel.
3) Brick Kilns: It is the total, substitute of steam coal.
4) Residential & Commercial Heating: For winter heating in Cold areas and Hotels, Canteens, Cafeterias and house hold kitchen appliances etc.
Screw Type Biomass Wood Sawdust Briquette Machine: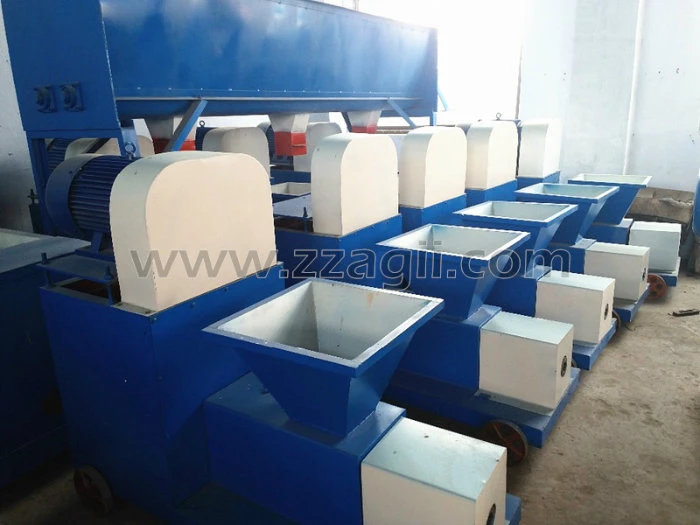 This machine is used to make rice husk, coconut shell, Oliver waste, sawdust into briquette as fuel or can make them to charcoal, it is equipped with the auto controlling heating system. The product of this machine can be used to heat boiler, fireplace and etc for warm in house.
Raw material could be: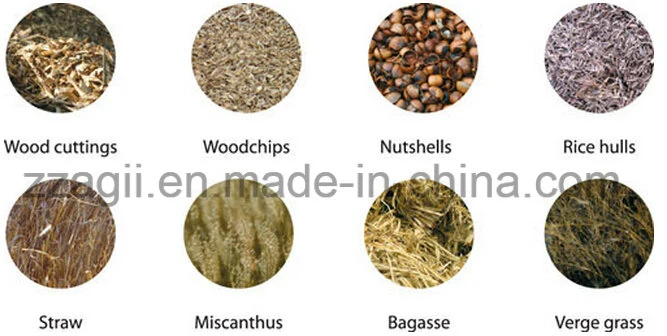 Any types of Agro-forestry waste and forest waste can be used for make briquettes Such as maize stalks, soybean stalks, broomcorn stalks, cotton stalks, rape stalks, peanut plants, sunflower stalks, bamboo sawdust, bagasse , wood chips, rice husk, coffee husk, coir pith, jute sticks, groundnut shells, Bamboo, wood, straw dust, Mustard stalk and cotton stalks ,nutshell, coconut shell ,etc
Wood Briquettes:

1)

This bio-fuel briquette is 45-80mm in diameter, occurs in the hollow quadrangular or
hexagonal cylinder or hollow hexagonal with a 15-20mm inner-hole.

2) The available shape: square, hexagonal, pentagon, pentagon with edge, hexagon with edge

3) The available diameter could be: 50mm,55mm.60mm,65mm.70mm.80mm and so on

4) The available length could be: 20cm,30cm, 40cm, 50cm

5) Final Briquette : Specific gravity: 1300-1900kg/m Calorific value: 4500-5000kcal/kg
Packing :