1.Introduction of new design briquette mesh band dryer price list
Mesh band dryer conveys raw material by steel mesh for drying, and very suitable for flow process. It is widely used in chemical industry, food industry, medicine industry, building materials, electronic industries, especially good at drying material in slice shape, strip particles. It has the advantages of low investment, high drying speed, high evaporation strength, high efficiency, and good quality of product.
Mesh belt dryer is composed by the main frame, tail frame, the way among frame, traction chain, nets chain, guide, automatic tensioning device,automatic heating equipment components. The material is the top charging hopper dryer with upper net belt into the dryer, the net belt running smoothly to the dryer, along the chute into the lower, and then back to the machine head, and so on, and the material in the hot air under the baking, gradually dry, by the tail department is sent out.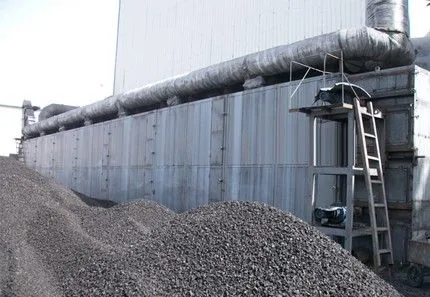 2.Principle of new design briquette mesh band dryer price list
The materials are uniformly distributed on the mesh-belt by the material feeder. The mesh-belt generally adopts 12-60 mesh stainless steel mesh and it is drawn by a transmission device and move inside the dryer . The dryer is composed of several sections. For each section, the hot air is circulated separately. Part of exhausted gas is exhausted by a special moisture exhaust blower. The waste gas is controlled by an adjustment valve. The hot air passes through the mesh-belt covered with bring water material away. The mesh-belt moves slowly, running speed can be freely adjusted according to the material property. The final products after the drying process will fall into the material collector continuously. The top and low circulation units can be freely equipped according to the user's requirements. The number of section might be selected according to the production demands.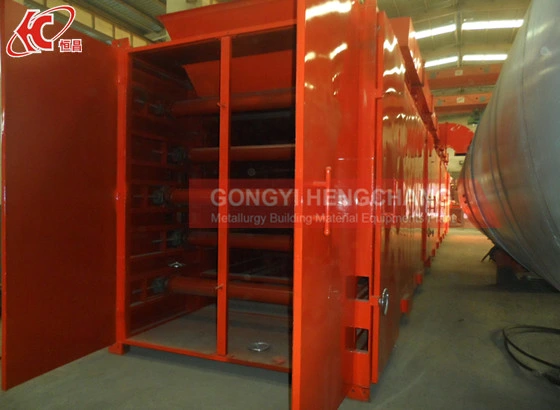 3.Our srrvice
1) Installation and guidance
When the machine arrives at your company, we will dispatch our technicians to your company to guide the installation and commissioning at site. User should pay for the following fees air tickets, boarding and lodging and traffic in client's factory.
(2)Technical training
We provide free technical training service to your stuff. Training content contains the main work principle of machine, operating regulations, maintenance methods and steps, safety, etc.
(3)Warranty:
Three guarantees of our product quality, warranty for one year (not include man-made damaged). We will maintain the machine for free for the quality problem. If the damage is caused by your improperly operation, the cost of the maintenance burden by you. we also provide you the life-long follow-up service.
4.our copmany
Gongyi Hengchang Metallurgy Building Material Equipments plant is a professional manufacturer specializing in the production of mineral beneficiation equipments, sand and stone crushing equipments, briquetting equipments, coal preparation equipments, drying and calcining equipments, cement plant equipments and compound fertilizer equipments.
5.Technical Parameters of mesh band dryer
| | | | | | | | | |
| --- | --- | --- | --- | --- | --- | --- | --- | --- |
| Model | Mesh Width(mm) | Drying Length(m) | Drying Area(m2) | Layer | Layer Distance (mm) | Running Speed(m/min) | Power(Kw) | Capacity(t/h) |
| HJWD6 | 600 | 6-12 | 3.6-36 | 1-5 | 400-600 | 0.06-1 | 1.1-2.2 | 6-10 |
| HJWD8 | 800 | 6-12 | 4.8-48 | 1-5 | 400-600 | 0.06-1 | 1.1-2.2 | 8-15 |
| HJWD10 | 1000 | 6-16 | 6-80 | 1-5 | 400-600 | 0.06-1 | 1.1-2.2 | 10-20 |
| HJWD12 | 1200 | 8-16 | 7.2-96 | 1-5 | 400-600 | 0.06-1 | 1.1-3 | 12-25 |
| HJWD16 | 1600 | 8-22 | 12.8-105 | 1-5 | 400-600 | 0.06-1 | 1.1-3 | 15-30 |
| HJWD20 | 2000 | 10-26 | 20-260 | 1-5 | 400-600 | 0.06-1 | 1.5-4 | 18-35 |
| HJWD24 | 2400 | 12-30 | 29-360 | 1-5 | 400-600 | 0.06-1 | 3-7.5 | 20-40 |
| HJWD30 | 3000 | 12-40 | 36-600 | 1-5 | 400-600 | 0.06-1 | 5-11 | 25-50 |