Grey Mattress Pad Thick 17CM Customized Bamboo charcoal palm 53x75 inch For Apartment Bed
Our is One Stop Custom Project Supply,Makes it Different functions for your Mattress,Matching Five Star Hotel
Mattress,Chain Hotel Mattress,Apartment Mattress,Dorm Mattress,Compression mattress,folding mattress,Plush
Mattress,Medium Mattress,Customized materials,style,color,packing.Foldable Type Customization,Horizontally
Foldable Type,Vertically Foldable Type,Multi-Fold Customization,Special Shaped Customization Any Size,Special
Angle ,Spliced Type Customization.

Grey Thick 17CM Mattress Pad
This Coir sleeping mat is the perfect choice if you are considering a comfortable, high quality Thick 17CM Customized
Mattress Pad. So you can sleep comfortably anywhere.





The right firmness to protect your back. Different from foam mattress, our mattress use Coconut fiber mat with natural
Latex to solve the problem of a mattress too soft to keep a healthy back.
Especially for those who have back pain, and teens who are still growing borns. This type of mattress will really
GOOD FOR YOUR BACK, NECK AND SHOULDER. Your exhaustion will be eliminate with a relax sleep on it.

Material: The Customized Bamboo charcoal palm Mattress Pad is Made of breathable 3D fabric and natural coconut,
environmentally friendly, comfortable, durable, portable, not deformed, highly resilient and protected against dust mites.
Quilted and tightly closed.

Give your sleep a clean feel 53x75 inch Apartment Bed Mattress Pad.
It is made from bamboo with over five-year age under 800°C high-temperature firing . Its porous structure can help
adsorb the chlorine and other harmful substances in water and remove bad smell. With its strong adsorption, the
activated carbon can remove THMs so as to keep product virus-free.
Bamboo charcoal palm 53x75 inch Mattress Pad is Inner core from above include fabric,sponge, latex, coconut fiber
mat, sponge and fabric.All size can be customised,
Mattress Attribute Table

Name

Grey Mattress Pad Thick 17CM Customized Bamboo charcoal palm 53x75 inch For Apartment Bed

Model No

1497-9

Place of origin

Guangdong , China (Mainland)

Advantages

1. American Security Foam Certification

2. Anti-mildew, anti-insect, breathable, anti-bacteria

3. Foldable design, Flat type/ two-fold type / triple-fold typ

4. Meet Formaldehyde standardm,Without irritating odor

5. Various fabrics are available Grey / Golden / White / Knitted /Camel hair fabric

Thickness

5cm/6cm/7cm/8cm/9cm/10cm/12cm/14cm/15cm/17cm

Packing

packed in craft paper bag

Delivery

About 15-20days after received deposit confirmed for container.



Brand-new Sleep Experience" Bamboo Charcoal Black
The addition of bamboo charcoal on the basis of natural coconut fiber has the advantages of purifying the air and
adsorbing formaldehyde.Air purification,Refuse,formaldehyde,Antioxidative,Breathable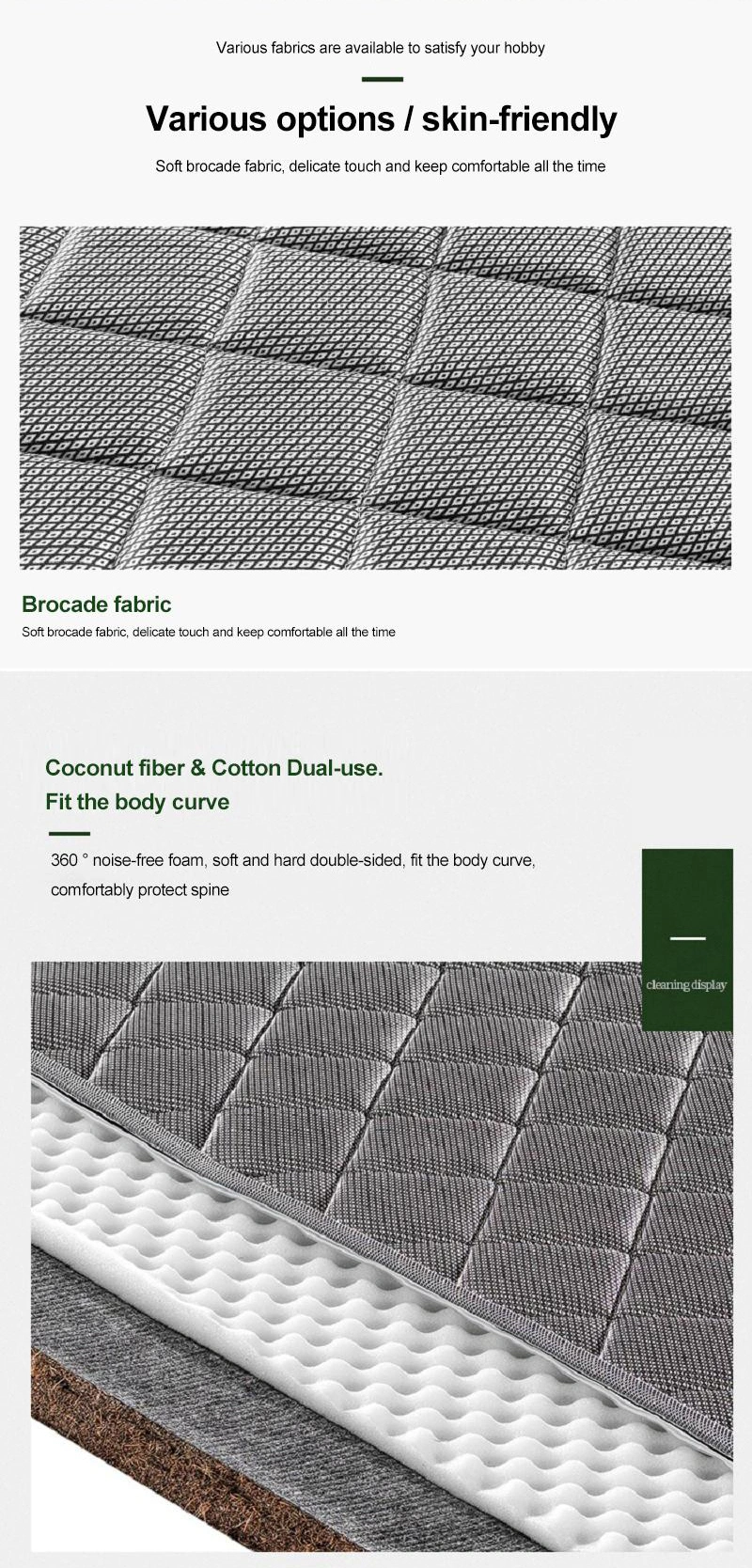 CERTIPUR-US CERTIFIED: Foam meets CertiPUR-US standards for content, emissions, and durability; FLAT
DIMENSIONS: 75"(L) x 38"(W) x 3"(H); FOLDED DIMENSIONS: 38"(L) x 26.75"(W) x 9"(H)

Three-Layer Structure With Support And Comfort Layer For A Apartment Bed Grey Mattress Pad.a Firm Coconut
Fiber Pad Is Sandwiched Between Two Layers Of Soft Latex Quilt For A Futon Mattress.this Provides You Resiliency,
Cushioning And Comfort.

Foldable: With the Mattress Pad 53x75 inch Apartment Bed you can sleep comfortably anywhere. It can be folded
up in a closet and then spread out on the floor for sleeping. Perfect for small apartments and confined spaces.
Effectively save living space and move around easily.






Thickness: 5/6/7/8/9/10/12/14/15/17cm. The Mattress Pad Bamboo charcoal palm 53x75 inch is thick enough so
that you don't feel on the hard floor. It can also be used on the bed to give you excellent sleep. It can be used in
any season.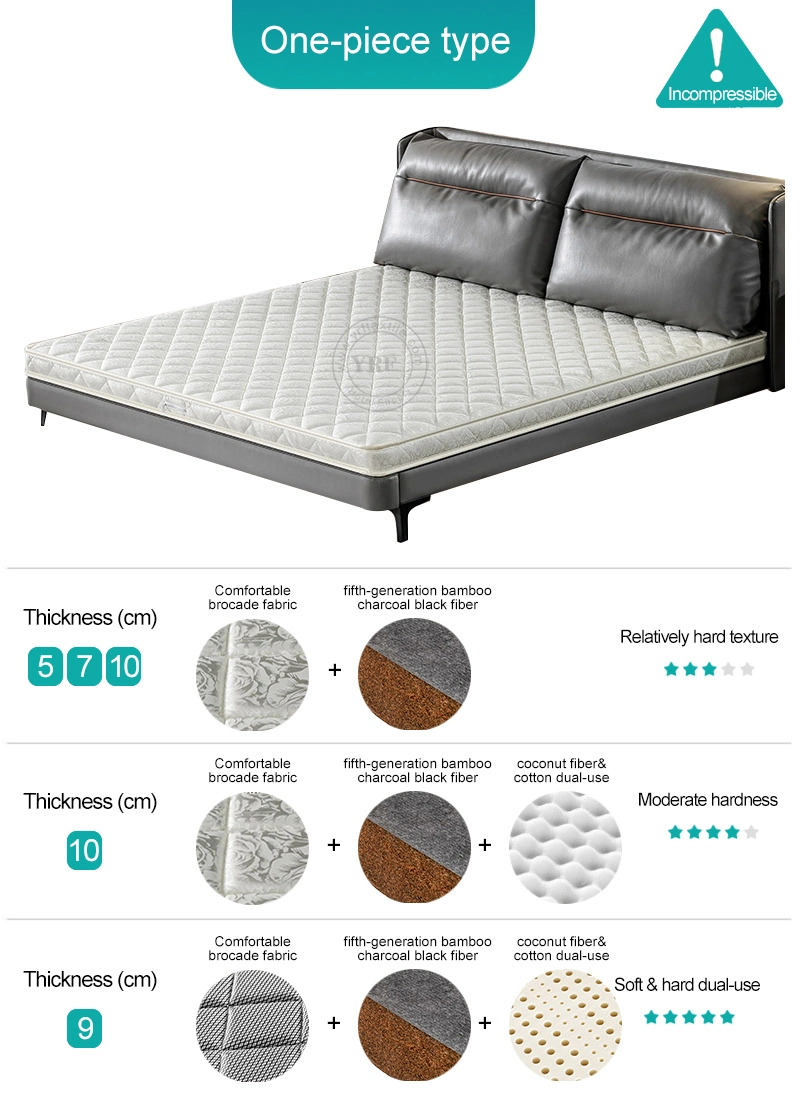 Mattress Pad Customized Bamboo charcoal palm materials:
Healthy proteciton = natural latex,Anti-mite and breathable 'The latex has thousands of tiny mesh holes that drain
the body's residual heat and moisture.Zero Formaldehyde ,Breathable and dampproof,Durable in use,Soothing nerve,
Memory thermostatic,Slow rebound.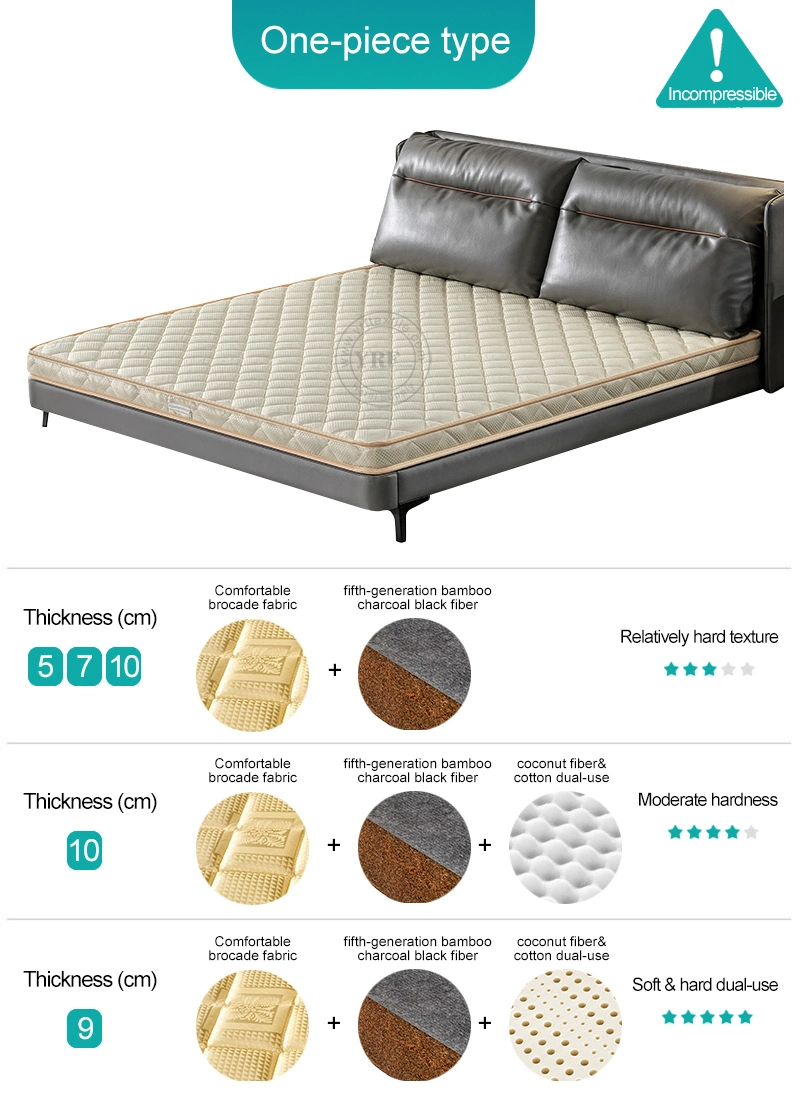 Care For Body:Thi Mattress Pad Apartment Bed Grey Better Fits The Body,Relieves Body Pressure,And Protects
The Neck And Waist For Stress-free support.
Protect your: Our Mattress Pad Grey Thick 17CM is not just sleep enhancing,It covers and protects your mattress
from damage, Dirt,And bugs.Make your mattress last longer!